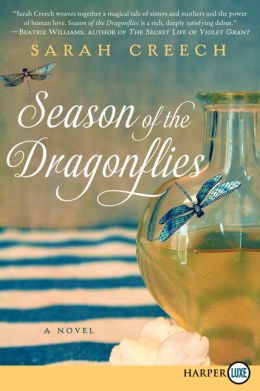 From Barnesandnoble.com:
"For generations, the Lenore women have manufactured a fragrance unlike any other. Hidden in the quiet rolling hills of the Blue Ridge Mountains, their perfumery guards unique and mysterious ingredients. A secret known only to a select clientele of movie stars, politicians, artists, and CEOs, the Lenores' signature elixir is the key to success for the world's most powerful women.

Willow, the coolly elegant matriarch, is the brains behind the operation. Her gorgeous golden-haired daughter, Mya, is its heart. Like her foremothers, Mya can "read" scents and envision their power to influence events. But Willow's younger daughter, dark-haired, soulful Lucia, claims no magical touch; wanting no part of the family business, she has left the mountains to make her own way in New York City.

When a divorce leaves Lucia at loose ends, she returns to the Blue Ridge Mountains for an uncomfortable family reunion and discovers trouble brewing. Willow is experiencing strange spells of forgetfulness. Mya is romancing a younger man and plotting to take the reins of the business. A client is threatening blackmail. And most ominously, the strange, magical plants that provide the perfume's secret ingredient seem to be dying.

With the Lenore empire at stake, the sister who can save their lucrative scent stands to inherit when Willow steps down. Though Mya schemes, Lucia has suddenly begun to show signs of possessing her own special abilities. And her return to the mountains—heralded by a swarm of blue dragonflies—may be the answer they all need.

Capturing the essence of sisterhood with the sweetness of flowers, Season of the Dragonflies is a beguiling tale of practical magic, old secrets, and new love."
I really liked this book. It reminds me very much of Sarah Addison Allen! It's a book full of strong women (good or bad) and how they evolve and love.
I loved the magic/supernatural/instinct things she has going on, it adds something whimsical and nice.
I liked that not everything was neat. I like that the people we care about have some messy things going on.
It was a quick read and I look forward to more!