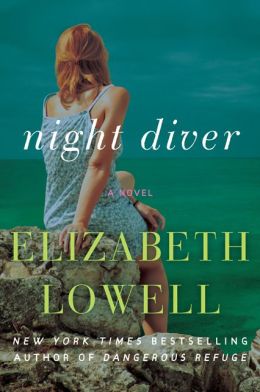 From Barnesandnoble.com:
"New York Times bestselling author Elizabeth Lowell plunges into the adventurous and deadly world of underwater treasure hunters in a heart-stopping tale that superbly combines atmosphere, action, romance, and suspense

After a family tragedy, Kate Donnelly left the Caribbean behind forever. But a series of bad management decisions has left her family's diving and marine-recovery business drowning in red ink. Now her brother pleads with her to come back to the island nation of St Vincent. Without Kate's financial expertise, the iconic treasure-hunting enterprise started by her grandfather will go under. Unable to say no to the little family she has left, Kate heads back to the beautiful and terrifying ocean that still haunts her nightmares.

Holden Cameron was addicted to the adrenaline rush of active duty—including narrowly surviving an underwater explosives accident. The last thing the former British military diver wants is to babysit a family of thieves on a tropical island—even if they are the world-famous Diving Donnellys. But in his new civilian job, Holden must investigate the suspicious activity surrounding a Donnelly dive to recover treasure from the ancient wreck of a pirate ship.

When equipment, treasure, and even divers begin to disappear, Kate and Holden form an uneasy alliance to uncover the truth. But the deeper they plummet into the mystery, the closer they come to each other. Soon they are sharing their deepest fears and darkest secrets—and a combustible chemistry too hot to ignore."





I like Elizabeth Lowell, she has a few series that I like more than the standalones. I was happy that she got back to the gem and jewel theme in this one. I've read a few treasure hunting books and they are all similar, luckily, so far I have liked them.
It's been so long since I've read a romantic suspense that I enjoyed the love story part.
It was a quick read and a nice and welcomed escape from tv for a while.
I also must say that I really didn't figure out who the bad guy was in this one early on like I normally do. I was rooting for Kate but got caught up in all the red herrings for sure!
I do wish that Kate and Holden had been developed a little more. I feel like it was a surface book. They did a little bit of growing and changing, but not as much as I normally like. I really like it when you feel like you really know and are close to characters and these two didn't really do that for me.
This is going to be an excellent beach/vacation read for lots of people!